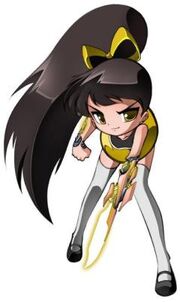 Biohazard
is a member of the Trinity, she is 14 years old and the final clone of Bethany. She has yellow eyes and long black hair that she wears in a ponytail, tied with a long yellow ribbon. She uses the name "Allison" when incognito and she has two daughters,
Lexine
and
Roxxanne
. She appears in powerpuff girls as a upcoming character, but she also has a cameo.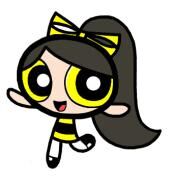 Biohazard is known as the cheeky and slightly perverted girl of the Trinity. An outspoken little girl, she has a habit of teasing others her age. Her hobby is to "collect" the undergarments that belong to her female friends. But behind all of this a dark story is concealed.
Official Story
Edit
As one of the three members of the Trinity she throws the world into chaos together with her sisters Blood and Blaze but later decides to start a life with a man known as Gabriel.
Gabriel took Biohazard into his home to live with him and together they have an intimate relationship over a period of time but when his affairs are revealed to the public, he throws her aside leaving Bio to write a cryptic note.
Official Alternate Story
Edit
Biohazard meets a new person a while after Gabriel threw her away, a boy of her age named Razien.
He ends up saving and taking her into his home, promising he will take care of her from now on, together they build up a new, happyer future for both Biohazard and lexine.
Biohazard gives birth to girl named Roxanne a few years after she meets Razien.