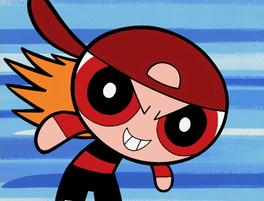 Brick is the self-proclaimed leader of the Rowdyruff Boys as well as Blossom's Boyfriend. He has two brothers named
B
utch
and
Boomer
. He is a villain who sometimes wins against the Powerpuff Girls. He is the only Villian to ever beat the powerpuff girls. Brick, along with his brothers, eventually fell in love with the Powerpuff Girls and permanently become their allies. He and his brothers were destroyed by the evil Queen Zarria. Later, they were revived by Bunny and Butterfly. He is currently voiced by James Arnold Taylor.
Episode Appearances
Edit
The Rowdyruff Boys
The Boys are Back in Town
A Ruff Time
Ruff around the edges
Bubble Boy
Boy Toys
Sugar Ruff
Sweet and Sour (Cameo)
Divide and Conquer (Pictured)
Shotgun Wedding (Pictured)
The Races of the Powerpuffs
See Me, Feel Me, Gnomey
Ruff Around the Edges
Oh Boy!
A Date with Fate
Big Boys
Boy Banned
Custody Battle
The Powerpuff Girls Rule!!!